FOUNDRY
Nelcast's Pedapariya plant is the newest addition to the Nelcast family and started commercial production in 2018. The plant exclusively produces Ductile Iron Castings for the Commercial Vehicle, Tractor, Off-Highway & Railway Industries. The plant produces all grades of Ductile Iron including Austempered Ductile Iron and Solution Strengthened Ferritic Ductile Iron. The current casting production capacity of the plant is 18,000 Metric Tons/Year.
MOULDING SHOP
Any high-quality casting begins with a high-quality mould. This concept is clearly embodied in our investments in technology for producing moulds which result in castings with exceptional dimensional accuracy & superior surface finish.
The sand used in the moulds is a key ingredient in producing a high-quality mould. State of the art equipment such as a Sinto RCS-10A Rotary Screen, a Sinto RCT-80 Sand Cooler and Simpson 85-B Speedmullor from DISA are used for ensuring a high level of quality in the output sand. The plant utilises a fully automated sand preparation plants to ensure highest adherence to strict process parameters. The Simpson Speedmullor is also equipped with the Hartley 2552 Sand Controller which checks every batch for key parameters before discharging the sand to the moulding lines.
The Pedapariya Plant is equipped with the best Flaskless High Pressure Moulding Line from the stable of Sintokogio, Japan. The salient features of the moulding machines are the aeration sand filling technology which can fill sand into even the most complex of profiles. The machine is a dual station machine which permits the setting of cores without delaying the extremely fast cycle time of the machine. An automated pouring machine from Fujiwa-Denki, Japan is used to ensure perfect control over the metal pouring process. The pouring machine automatically synchronises its movement with the mould so that moulds can be poured without needing to interrupt moulding.
Sinto FCMX-III – 700 X 600 X 180-250/180-250 @ 171 moulds/hour
After 90 minutes of in-mould cooling, the castings and sand pass through a DISACool drum, an apron conveyor and a DISA DTC-1 Shotblasting machine.
MELTING SHOP
Nelcast uses Medium Frequency Induction melting furnaces for optimal metal availability and power efficiency. The Company has installed an Inductotherm Tri-Trak furnace which utilizes the latest technology in its power & control system to apply melting power to two furnaces and holding power to a third furnace, simultaneously to ensure close to 100% utilization during the melting process.
1 X 3MT Inductotherm 4000 KW Tri-Trak plus
CORE SHOP
We have four identical automated core shooting machines which are capable of producing all cores required for the Sinto Line. Cores upto 35 Kg can be produced.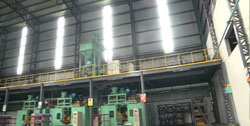 QUALITY CONTROL
Quality is the hallmark of Nelcast. Products undergo rigorous quality checks at every stage of production. In order to ensure the physical & dimensional properties of our products, our Quality Control Department has facilities for:
22 Elements Spectrometer from Spectro Lab, Germany for determining precise chemical composition of the metal.
Optical Microscopy equipment with photographic attachment and Image Analyzer.
Complete Sand testing facilities.
Hardness Testing Machine.
Tensile Testing Machine.
Ultrasonic machine for detection of sub- surface defects.
OUR REACH
Plant III– Pedapariya

Nelcast Ltd,
259 & 261, Pedapariya Village, OZILI mandal,
Pedapariya-524402, Andhra Pradesh, India.

  +91-8624-251266, 251766