FOUNDRY
Nelcast's Gudur plant started commercial production in 1985. The plant exclusively produces Ductile Iron Castings for the Commercial Vehicle, Tractor, Off-Highway & Railway Industries. The plant produces all grades of Ductile Iron including Austempered Ductile Iron and Solution Strengthened Ferritic Ductile Iron. The current casting production capacity of the plant is 60,000 Metric Tons/Year.
DEVELOPMENT
The Company has invested in facilities to achieve its goal of speedy product development of even the most complex castings.
Utilizing the best tools in the industry like MAGMASOFT, the development team evaluates the filling and solidification process of the Iron to ensure that castings are produced defect-free from the very first time.
Tool Design is done in-house by our Engineering team utilizing Creo Parametric CAD software. MasterCAM is used to generate CNC code from the 3D data. Tools are manufactured utilizing our 9 CNC Vertical Machining Centres of different sizes. This ensures quick and reliable development of new castings.
Our Pattern Shop also ensures that all tooling is well maintained and serviced to ensure the quality of the castings throughout the life of the tool.
MOULDING SHOP
Any high-quality casting begins with a high-quality mould. This concept is clearly embodied in our investments in technology for producing moulds which result in castings with exceptional dimensional accuracy & superior surface finish.
The sand used in the moulds is a key ingredient in producing a high-quality mould. State of the art equipment such as Disa PS Polygonal Sieves, Sand Coolers from DISA & Simpson and Intensive Sand Mixers from DISA are used for ensuring a high level of quality in the output sand. The Gudur plant utilises fully automated sand preparation plants to ensure highest adherence to strict process parameters. The DISA Intensive Mixers are equipped with the Sand Multi-Controller (SMC) which checks every batch for key parameters before discharging the sand to the moulding lines.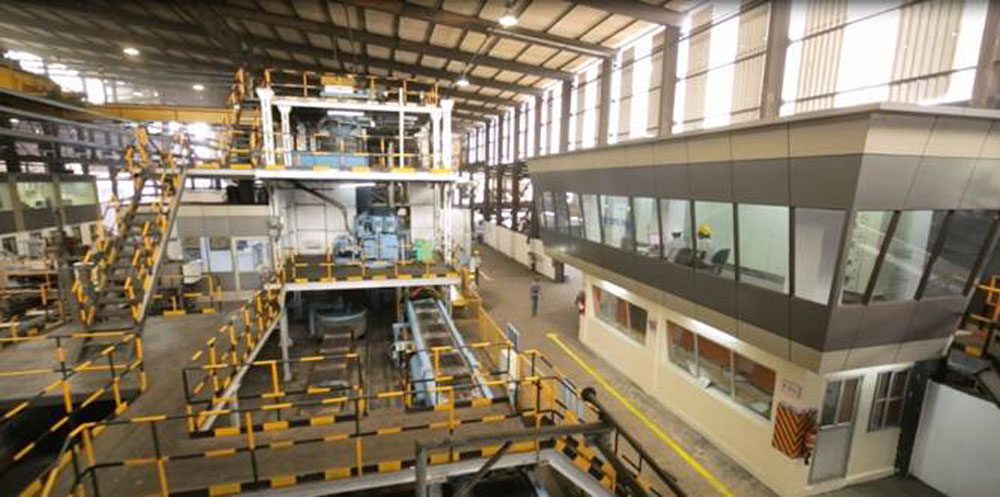 The Gudur Plant is equipped with three High Pressure Moulding Lines from the DISA Flex series which utilize the Double-Blow and Flexipad Squeeze compaction technology. Automated pouring devices from Inductotherm are used to ensure perfect control over the metal pouring process.
DISA Flex 70 HS – 800 X 700 X 300/300 @ 120 moulds/hour
DISA Flex 90 – 1230 X 1000 X 400/400 @ 52 moulds/hour
DISA Flex 90 – 1230 X 1000 X 400/400 @ 58 moulds/hour
MELTING SHOP
As one of India's largest foundries, Nelcast has presently a melting capacity of over 800MT of Iron per day. Nelcast uses Medium Frequency Induction melting furnaces for optimal metal availability and power efficiency. The Company has installed multiple Inductotherm DUAL TRAK-R plus furnaces which utilizes the latest technology in its power & control system to apply melting power to one furnace and holding power to another furnace, simultaneously to ensure close to 100% utilization during the melting process.
5 X 3MT Inductotherm 3500/3000 KW Dual-Trak plus
1 X 3MT Pillar 1500 KW Medium Frequency Furnace
2 X 1.5MT Pillar 1300 KW Medium Frequency Furnace
CORE SHOP
Utilizing our expertise & facilities for making cores of different types, we are able to offer customers the perfect balance of intricacy and economy via utilization of the right type of core for each specific product through our extensive facilities:
Cold Box core shooters
Shell core shooters
No Bake core making facility
CO2 core making facilit
MACHINE SHOP
In a quest to move its products up the value chain and satisfy customers demand for finished components, Nelcast utilizes several CNC Turning Centres & Vertical Machining Centres to produce finished components that meet even the most demanding tolerances.
QUALITY CONTROL
Quality is the hallmark of Nelcast. Products undergo rigorous quality checks at every stage of production. In order to ensure the physical & dimensional properties of our products, our Quality Control Department has facilities for:
22 Elements Spectrometer from Thermofischer ARL, Switzerland for determining precise chemical composition of the metal.
Optical Microscopy equipment with photographic attachment and Image Analyzer.
Complete Sand testing facilities.
Hardness Testing Machine.
Tensile Testing Machine.
Ultrasonic machine for detection of sub- surface defects.
Carl Zeiss 3-Dimensional Co-ordinate Measurement Machine.
FARO Arm 3D LASER Scanner.
3-Dimensional Co-ordinate Measurement Machine
Tensile Testing Machine.
Crack detection apparatus using permanent yoke magnet.
ltrasonic machine for detection of sub- surface defects Proof machining capabilities.
Plant I– Gudur

Nelcast Ltd,
34, Industrial Estate,
Gudur – 524101, Andhra Pradesh, India.

+91-8624-293266, 293766